About
The Robinson Family has been serving Gainesville and the Alachua County area since 1958, and this is our story.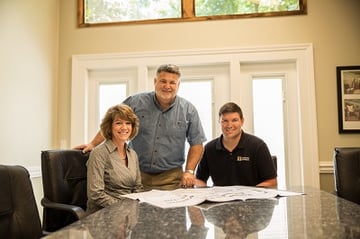 Scott Robinson has been in the building business all his life. Scott and the firm bearing his name are end points of a non-traditional career path. During his senior year at Buchholz High School in Gainesville, FL, he was involved in a special program that allowed him to go to work after his first three classes in the morning. "Your employer was supposed to grade you for the last two classes," Robinson said. And that was a problem because he was his own employer. At 16, Robinson started his own roofing company, although he legally couldn't be the boss for two more years. "I worked for myself, the school officials frowned on you grading yourself. So I got my father to grade me. He usually gave me A's and B's."
Scott's father, Elwyn, was certainly an experienced teacher. Along with Harold Walker, Elwyn Robinson started Quality Builders in 1958. In 1995, Scott Robinson, officially took over Quality Builders from his father. The roofing company he started in high school was merged into the building business. "From the time I was eight or nine, I knew I wanted to be a builder with my father and take over the company, I never had any thoughts of doing anything else."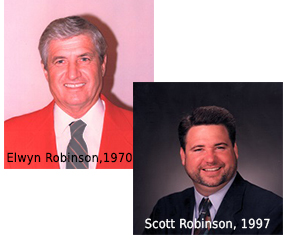 As if following his father and brother into the building industry was not enough, Robinson also followed them as president of the Builder's Association of North Central Florida. Elwyn Robinson served as president in 1970 and Tom Robinson followed in 1978. Scott Robinson, who was 8 years old back when his dad served as president, remembers both installations, which made his becoming president in January 1997 even more emotional. "This was a milestone, it is one of the goals I set years ago. To follow in my father's footsteps in this position and to continue construction in our family is important."
Then in 1998, Scott Robinson and his brother Tom Robinson joined forces to do business as Robinshore Renovation and Custom Homes, LLC. This change simply added greater resources and abilities to an already strong enterprise.
After eight years of honing his skills as an expert renovator, in June of 2006, Scott knew it was time to let his company create its own unique identity and became Robinson Renovation & Custom Homes, Inc. "It ultimately became confusing to our clientele, because we do such different things, we keep hearing from people about the confusion with the two companies. We were working hard to be identified for what we do – for our specialty. We aspire to stand out as the premier design-build renovation company in Alachua County. It's hard to do when you're sharing a name and an office with another company."
The result has been much more than a re-branding campaign, it is a determined focus on taking what has been highly successful, and making it even better as Robinson Renovation & Custom Homes, Inc.
Today, the company's commitment to their own constant improvement continues beyond the end of construction. "We love hearing the good stuff, but we know we need to hear it all if we are going to continue to improve." "It goes back to developing lasting relationships, and the pride and appreciation we feel. Appreciation that people trusted us to help them make their home better, and pride that we helped turn that vision into reality."
Additionally, we take pride in our community. We support local organizations and non-profits in Alachua County. Some of our past projects include participation with the PACE Center and Child Advocacy Center of Gainesville.